Walk the same streets in Tombstone AZ that Wyatt Earp walked
---
TOMBSTONE CITY HALL
Hours: Monday - Friday
8:00AM - 5:00 PM
(520) 457-2202

ONLINE
cityoftombstone.com

PUBLIC WORKS
611 E. Allen Street
(520) 457-3415

TOMBSTONE MARSHAL'S OFFICE
315 E. Fremont St.
(520) 457-2244

TOMBSTONE FAMILY HEALTH
Hours: Monday - Friday
8:00AM - 5:00 PM
7 North San Diego St
P.O. Box 1117
Tombstone, AZ 85638
(520) 457-2374

CITY OF TOMBSTONE VISITOR CENTER
(520) 457-3929

TOMBSTONE CHAMBER of COMMERCE
Hours: Monday - Friday
9:00AM - 5:00 PM
(520) 457-9317
(888) 457-3929

ONLINE
tombstonechamber.com

TOMBSTONE POST OFFICE
100 Haskell Street
Tombstone, Arizona
(520) 457-3479

---
FOUNDED 1879

ELEVATION 4,541 ft (1,384 m)

Population (2012)
1,358

GPS
31°42'57"N (31.6 N)
110°3'53"W (110.2 W)

Key in this address:
373 East Fremont Street
Tombstone, AZ 85638
TombstoneWeb.com is not funded by any group or organization. We do not charge anyone to be listed or for their websites to be linked. If you find the information on this website useful, consider donating any amount you like to the hosting and maintenance. This way we can continue to bring you TOMBSTONE ARIZONA'S BEST ONLINE INFORMATION CENTER!
TOMBSTONE ARIZONA'S INFORMATION WEBSITE
TOMBSTONE ARIZONA. That name means many things to many people. It creates images of gunfights and dusty streets, whiskey and Faro games, Wyatt Earp, Doc Holliday and a plethora of old western movie scenes. But what many folks don't realize is that Tombstone Az is a living town with real inhabitants who have lived here throughout its history and still do today. That is part of the reason Tombstone has been called "The Town Too Tough to Die"
Walk the very same streets here in Tombstone that Doc Holliday, Wyatt Earp, Johnny Ringo, Ike Clanton and a host of other Western Legends walked over 130 years ago. You can just feel the history here! This is the most authentic Western Town left in the United States!
On these pages reside the most complete and up to date listing of attractions and businesses in Tombstone, Az. Our goal is to have a "One-Stop" tourist guide to the City of Tombstone so you are able to know just what Tombstone has to offer. TombstoneWeb.com lists every Tombstone Arizona business we know of AND links to all of their websites for FREE.
Find the best deal, compare prices, and read what other travelers have to say about Tombstone Arizona at Trip Advisor
Here you will find detailed listings of Museums, Gunfights, Tours and Civic Organizations on our Attractions page. To start you off you can download and print a Map of Tombstone so you'll know where to go! You'll find Motels, B & Bs, RV Parks and Vacation Rentals on our Lodging page. You will find Gift Shops, Clothing Stores, Jewelry Shops and Galleries on our Shopping page. There is a complete listing of Restaurants and Saloons on our Eat & Drink page. Need a Bank, Wedding Service or a Seamstress? How about a Repair Shop or a Graphic Design company? Maybe you are looking for Wedding services. They are listed on our Local Services page. Tombstone Arizona's annual and special Events are listed on our Events page. You can even find unique souvenirs on our Souvenirs page. And if you still need more we have included Links to Tombstone related web pages for further research on our Links page. We've also included a Brief History of Tombstone to get you started.
Whether you're planning your first trip to Tombstone, or you've been here many times, you'll find all the information you need to know for a fun, educational and history filled visit to the "Town Too Tough To Die ", Tombstone Arizona!
Practically everything you'll need to know for a trip back in time to the Old West is here. When you visit the Tombstone Arizona businesses listed here, be sure to tell them TombstoneWeb.com sent you. Also, don't forget to stop by the Tombstone Visitor and Information Center on 4th and Allen Streets to pick up a free map of Tombstone and tourist information on all of Arizona.
For a brief History of Tombstone, CLICK HERE

For a Map of Tombstone, CLICK HERE
Read about Tombstone Arizona's History every month in
Tombstone's History and Information Journal.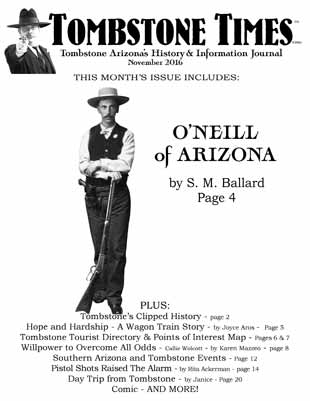 Tombstone's History Journal!

FEATURING

O'NEILL of ARIZONA


S. M. Ballard



HOPE and HARDSHIP; A WAGON TRAIN STORY
by Joyce Aros

WILLPOWER to OVERCOME ALL ODDS
Callie Wolcott


by Karen Mazzeo



DAY TRIP FROM TOMBSTONE and more!

TOMBSTONE ARIZONA'S HISTORY JOURNAL!

You will also find a map of Tombstone, Tombstone Tourist Directory, comic, Corral Shotgun Ads and more in the November 2016 issue of Tombstone Times. Available for purchase online! You can also find more history on their Facebook page facebook.com/tombstone.times/

Tombstone Arizona's History Journal
Do you have a specific question about Tombstone Arizona? Then e-mail Janice and let her answer your queries or you can fill out our question form on the CONTACT US page.
PLEASE VISIT OUR FEATURED WEBSITES
---
---
FREE VICTORIAN AND ANTIQUE CLIP ART IMAGES
CLICK HERE to see the Royalty Free images available for you to use for FREE in your personal and commercial projects.